While he used the piano to compose, Duke Ellington's instrument was his orchestra. As he put in the following, beginning at 5:37: "The band is an accumulation of personalities, tonal devices, and as a result of a certain musician applied to a certain instrument you get a definite tonal character."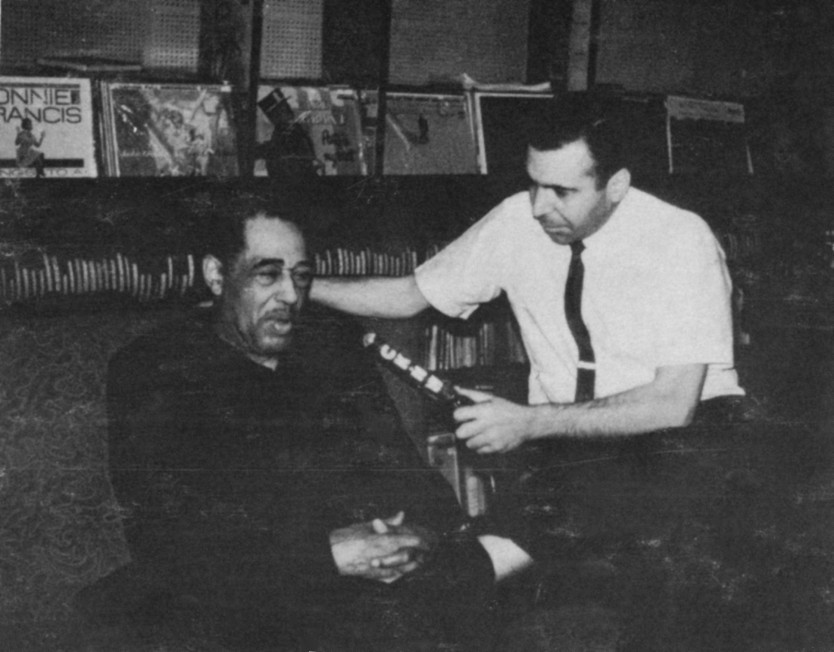 Duke Ellington and Jack Cullen
DUKE ELLINGTON (1899-1974)
DUKE
An in-depth interview with Duke Ellington conducted by Jack Cullen of CKNW, Vancouver, British Columbia on October 30, 1962.
Side 1: Beginning (17:23)
Side 2: Conclusion (17:34)
JACK CULLEN REMEMBERS
Duke Ellington was a regular on the west coast of Canada back in the 1930's and the 1940's and although I had seen many of his concerts it wasn't until the 1950's that I met him for the first time. He came to a place called Isy's Supper Club – Vancouver is known for two very good supper clubs; one is the Cave and the other is Isy's. Isy's place has now turned into what we call a flesh house, a girlie place but at that time it was one of Vancouver's hot spots. One night, at about 1:30 A.M. I met Duke after the last show. I remember approaching him along with my friend Bobby Hughes; we went back stage and asked him if he would come over and do an interview. Duke had consented to very few lengthy interviews such as what we put him through, but he was in a good mood as the band had been well received that night. We walked back the three blacks to my studio as he felt like a little fresh air. Next door to the studio was a liquor store; we asked Duke if he would like to have a little sip and ended up getting some good Canadian rye for him and going up to the top floor to our studio, which was above the Danceland Ballroom at that time. He was amazed when he looked at the library and especially when he looked at all the transcriptions; we had the Standard transcriptions, and World transcriptions, and he was really high on those. The interview didn't break up until 5 in the morning; it was one of the longest ones I've ever done, with a little sipping in between mind you. We were all getting very, very happy along the way, and I didn't even know he was a drinking man, he wasn't abusive about it, maybe I was. But anyway, we started and we took him year by year. I had done some homework ahead of time because I knew I was going to interview him so I took it pretty well chronologically with his tunes, starting with his first theme, "East St. Louis Toodle-Loo," which he corrected to "Toadle-Lo," as he calls it. He spoke in depth about each composition, what the inspiration was behind it and how long it took before lyrics came to the tunes. In no time at all we had whisked him right through the years.
* * * * *
The Duke never did fit the common stereotyped image of the jazz musician; it was as if he was a visitor from another realm living within the jazz idiom. The life of a musician is a hard life, embittering and destructive, but the Duke did not fall prey to the Harpies of liquor and drugs and indeed was able to maintain his equilibrium, neither getting carried away with his own importance nor allowing the hangers-on to suck him dry. His music was created primarily to please himself, a harsh critic indeed, but never a self-indulgent one. To the Duke, commercial success was almost incidental; as he states in this interview, "I live in the realm of art." He had the knack of drawing inspiration from the scenes around him, from "mental pictures" as he called them; a man in an alley, a woman on her porch or a train in the night. There was a realism in his work that came from involvement and understanding, it was not simply a case of ars gratia artis but rather an aurally picturesque social commentary. "I had three educations," he said, "the street corner, going to school, and the Bible. The Bible is most important. It taught me to look at a man's insides rather than the cut of his suit." It was the interaction of these three influences that gave him the ability to orchestrate his "mental pictures," not the ability to create them musically but rather the ability to conceive them. Someone who can say, "I got most of my instruction riding around Central Park in a taxi" and yet be called one of the greatest modern composers by the likes of Stokowski, Grainger, Stravinsky and Milhaud has his feet on the ground. This great composer, America's latter day Bach, worked on trains and buses, in hallways and cafes, writing against windows, sometimes by the light of only a match. He summed it up himself quite succinctly by saying, "I never met a really great jazz musician who didn't have a sense of humor." His work discussed emotion, not steel and concrete. When he wrote about Harlem the listener did not feel the buildings but rather the trials and fears of people trying to cope with their environment. The Duke was great because he was always one of us, he just saw things a little better. He was as much a visionary as a musician. He was able to find the beauty in any circumstance, and by putting it in his music he let us see it too. –Chris Kuchler
Other albums in the Varese International "History of Jazz" Series:
Louis Armstrong "SATCHMO" VS 81006
Art Tatum "THE KEYSTONE SESSIONS" VS 81021
Complete catalogue available upon request.
"Without music life would be a mistake" –Nietzsche
Produced by & Cover layout: Dub Taylor / Cover photo: Ray Avery / Special thanks to Jack Cullen of CKNW, Vancouver, British Columbia / © 1976 Varese International / ℗ 1976 Varese International / Produced by Baruch Artistic Ventures in association with Dogwood Productions for Varese International / Post Office Box 148 / Glendale, California 91209 / Made In U.S.A.